Wake up time: 10:00am
11:05am- Breakfast. 2 Eggs, scrambled with a little smoked turkey sausage and a small cut up tomato, served with 2 pieces of turkey bacon. + water pill and green tea pill.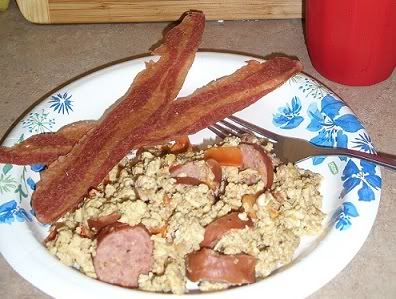 3:45pm- Lunch. Baked [salmon] fish seasoned with fresh lime juice and mrs. dash original blend seasoning, served with a salad (with ranch) and half an avocado, seasoned w/ Mrs. Dash original blend also. Also having a vanilla coke zero,
4:25pm- 20 squats.
6:50pm- Snack. Less than half of a banana.
8:30pm- Dinner. A bowl and a half of some chicken stir fry stuff.
Around 10pm- 10 squats.
(This week and last week from Sunday night through Thursday night I haven't been home. I've been staying at a friend's to babysit his kids, so I've gotten absolutely no working out done here, even though he's on a diet too and we keep trying to make plans to work out at his gym 3x a week. It's been flukes! So, tomorrow while the kids are napping or doing their thing, I'm gonna try to turn on some "hip hop abs" and at least do that. And today I did 30 squats through-out the day, just to try to get some form of exercise.)